About MySword Bible Widget
MySword Bible Widget - Your home screen has never been this Fun with Bible verses
Copyright © 2013-2022
Riversoft Ministry
All rights reserved.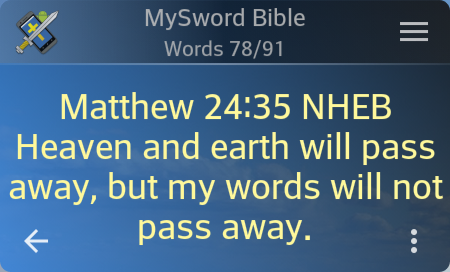 This widget allows you to select a Bible topic and it will display at random Bible verses. You can also change the font size as well as the background and text color. You can copy the currently displayed content or even share it.
This software is given as a gift to Deluxe Plus Donors of MySword app. It will not run properly if the MySword app is not installed and activated for Deluxe Plus.
Installation Requirements
Android version: ICS 4.0 or higher.
MySword for Android version 5.3 or higher.
This widget is only available to MySword app users who are Deluxe Plus Donors (MySword app is a full-fledge Bible Study Software).
Since this widget app is not available in Google Play, you will need to be able to install Android apps from outside Google Play by enabling the Android Settings->Security->Unknown sources.
Also, you will need to have knowledge on how to put widgets onto your home screen.
Features
Multiple widgets on the home screen with the same settings as well as topic or different settings and topics.
Select from 20 built-in topics of a total of more than 2800 Bible verses.
Randomize the Bible verses or order them by Bible order (book, chapter, verse number).
Copy text to clipboard.
Share text, MySword link or text with link.

For MySword link to work on the recipient device, the MySword app and the specific Bible module (or other modules whose content is shared) are required.

Change the text size.
Change the text color including the alpha (opacity/transparency).
Change the background to predefined 8 gradient backgrounds or to a custom non-gradient background color (including alpha).
Select the preferred Bible translation to use instead of the default (use a Bible module in your MySword app).
Choose a MySword Module like a commentary or personal notes that will be the source of verses.
Choose a (Module) Topic of the selected dictionary, journal or book as the source of Bible verses.
Choose a MySword dictionary, journal or book as source of content (actual text).
Edit the Journal entry (for Module Journal and Module Topic Default) in version 4.0.
Screen Shots
The following shows MySword Bible Widget on a smartphone's home screen: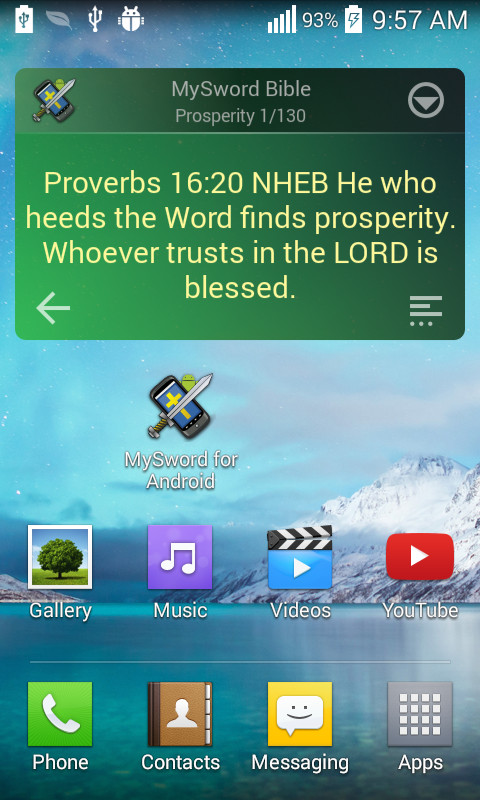 Below shows two MySword Bible Widgets on a smartphone's home screen with different custom background and text colors: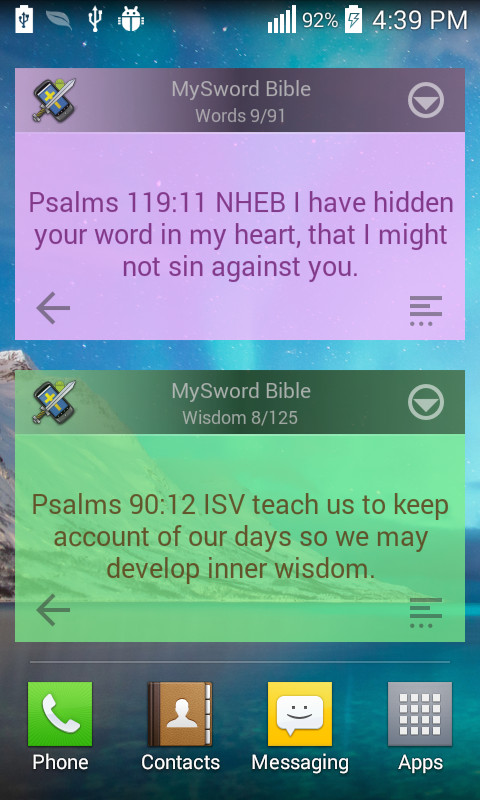 Below shows how MySword Bible Widgets are displayed on a tablet: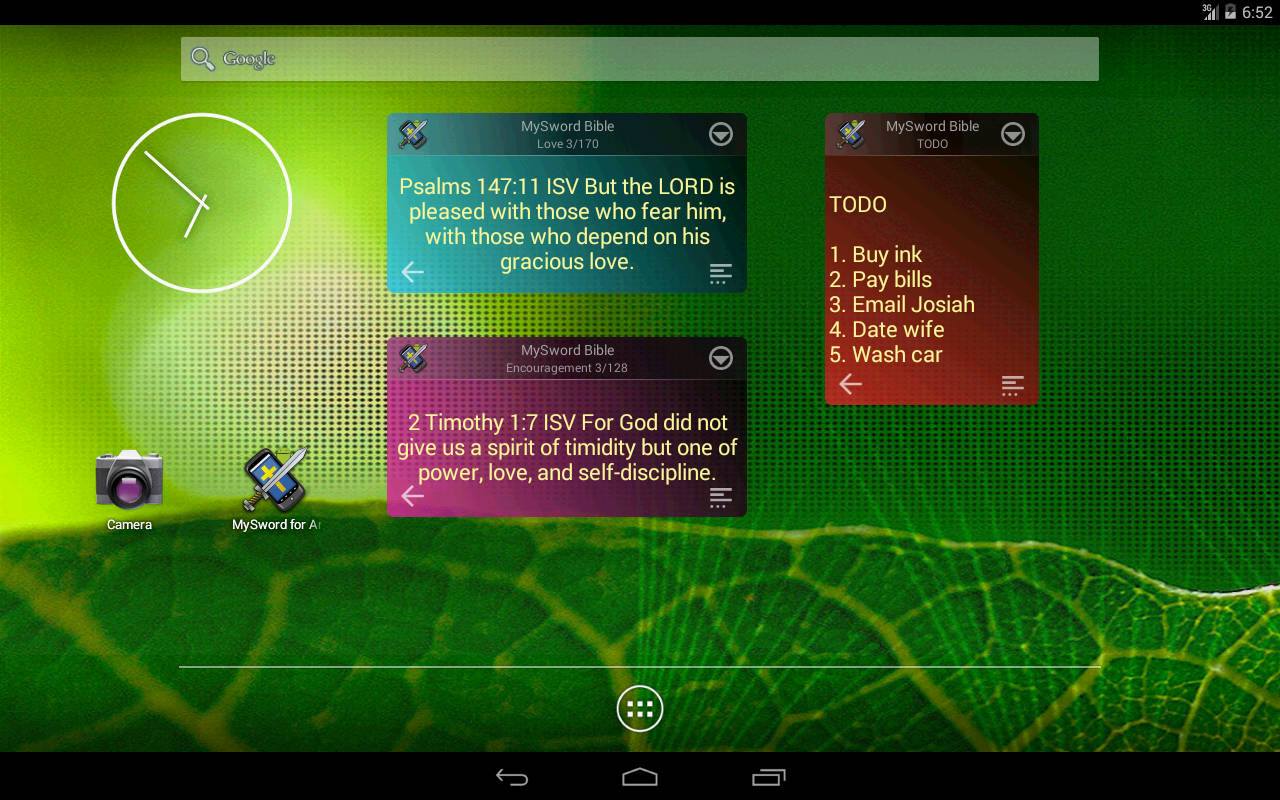 Download MySword Bible Widget
MySword Bible Widget is not available in Google Play. You can only download it here:

Latest MySword Widget v.4.1 - 25 July 2019

Older version of Widget v.4.0 - 7 March 2017
Please note that MySword Bible Widget requires the minimum Android version of 4 (ICS) for it to be installed.
For MySword Bible Widget to be properly installed in your Android device, make sure the Unknown Sources setting is checked in Settings->Applications.
What's New in version 4.1
New Heart English Bible (NHEB) and World English Bible (WEB) quotes updated to the latest 2019 updates. The Scriptures was updated from 1998 (TS1998) to 2009 (TS2009). Added also new topics: Grace, Instruction, Kindness and Understanding.
What's New in version 4.0
For Module Journal and Module Topic Default, the currently displayed topic can now be directly edited via Menu->Edit using MySword Journal Entry Editor (requires MySword 8.0 or higher), and upon exit the content is automatically refreshed. In the old version, you have to tap the upper left Icon then go to Full MySword, Edit the Journal Entry, press Back button to exit MySword, then manually refresh the content by going to the next entry then back.
Bugs Fixed in Version 4.0
Selecting Green background shows blue instead of green.
What's New in version 3.0
Journal, Book and Dictionary Module without Default Topic (no specific topic) now has NOT Randomized feature. This is very useful for multiple TODO or Lists in one Module and you can now cycle through the topics with ease if Randomized is not checked. Before (in version 2.0) it is always randomized regardless of the Randomize check box as it was not used.
Added new topic: Hope.
Material Theme for Lollipop devices.
Icons are now Material Design compliant: smaller but simpler.
Changed the default background from Green to Blue.
Made the menu popup more compact by making the text slightly smaller but scalable through Android Display setting Font size, packing more menu items.
Background and Text color custom Color Picker improvement: the hexa color number can be entered manually by tapping the text message with hexa color just like in MySword app.
Bugs Fixed in Version 3.0
View content (upper left icon) of Module abbreviation with ampersand (&) like M&E does not work.
Horizontal rule (HR tag, e.g. from Journal, Book or Dictionary) still shows the HTML tag.
Share content with paragraph embedded in list shows as Wiki.